A new toy: Tactical Solutions Cascade Ti
Written on October 5, 2013 By Tony in NFA, Suppressors
A few months ago I got my machine-gun, the Reising model 50 in .45 ACP. It wasn't my first time handling an NFA firearm by any means, but it was the first one I owned.
Interestingly enough, it wasn't the first NFA weapon I bought. About 3 months before buying the machine-gun, I had paid for a Tactical solutions Cascade Titanium suppressor. I paid the dealer in July, but frustratingly he didn't file the form3 to transfer to my dealer until the end of October. The can finally arrived at my dealer in December, With all of the holiday merriment and requisite family obligations, I didn't get to file the form 4 until January.
Fast forward 9 months to early October, and I get a call from my dealer telling me that the 2 stamps I filed in January came in the mail. I went and picked both items up this morning. I made the quick drive to my favorite local range, and spent a little time on the trigger, and burned a little ammo.
The Tactical Solutions Cascade Ti suppressor design is several years old now. It's a little dated in some ways, but still performs reasonably. The reasons I went with the Cascade Ti were threefold. First, it's full auto rated. Considering my enjoyment of full auto shooting, I anticipated the future need for any can I would own to be F/A rated. Second, it's made entirely from titanium, meaning that it can withstand cleaning methods that would literally eat other suppressors for breakfast. Third, it's rated for magnum rimfire and the 5.7×28  round (although since purchasing mine, the company has changed the rating for newer made cascade ti's to include the magnum rf's but exclude the 5.7 and .22 hornet, I assume due to manufacturing changes).
Overall the can seems to be very well made, the machine work looks good and everything is nice and tight. The natural titanium finish works fine for me, but I understand it wasn't the most popular thing out there.
The real issue that a lot of folks will have with the cascade ti is the fact that it's a 'sealed' can. That means that it isn't designed to be taken apart for cleaning. This was a concern of mine initially when looking at suppressors, but after researching the cleaning method referred to as 'the dip' I decided I didn't mind a sealed can, as long as it was impervious to that cleaning method. I had no desire to take the can apart to clean it every few hundred rounds anyways.
To be completely honest, when I purchased the cascade ti, I wasn't hoping for or expecting the quietest suppressor on the market. I was concerned with it being full auto rated, easy to clean (the dip) and being hearing safe or better. I got all of that.
The cascade ti isn't the quietest can I've shot, but it does reasonably well on pistol length barrels, and does very well on rifle length barrels. Being able to shoot without hearing protection is a nice change.
I took a variety of ammo with me to test the suppressor, as well as several hosts.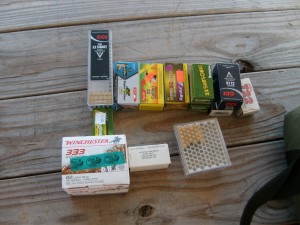 The Thompson Center Contender G2 was a very good host with it's 16.25″ barrel. With subsonic ammo, it was pellet gun quiet. I also tried CCI's 'quiet' ammo in the gun, and it was indeed, quieter still.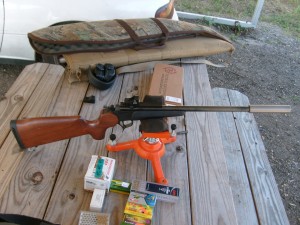 I also brought a Ruger Charger style pistol with me as a host. I had a custom 3.5″ barrel made for the gun, and I still need to do some tuning to get it to cycle 100%, but the barrel length does keep everything but stingers subsonic. using bulk pack winchester the gun was hitting dirt clods at 50 yards without issue. In my rush to get out the door, I forgot to put any optics on the gun, so I wasn't aiming at the dirt clods as much as pointing at them. still, it was quiet with the can, and probably had as much action noise as anything else.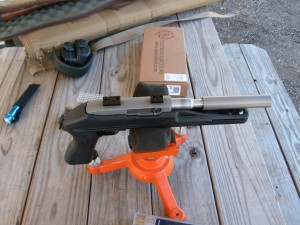 Of course, the S&W 422 pistol with it's 4″ barrel and high sight line is a natural suppressor host.  This gun has proven to be an excellent host for suppressors, the alloy (not zinc!) frame seems to help keep the action noise a little quieter, the 4″ barrel keeps all of the bulk pack ammo subsonic, the sights are visible, even over a suppressor as large as 1.5″ in diameter, and the gun is accurate and easy to shoot. With Standard Velocity Ammo, the combination is very quiet.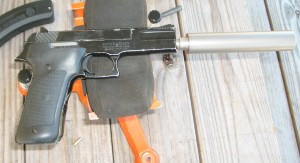 Of course, a day of shooting wouldn't be complete without some (simulated in this case) full auto fun! The Ruger 10/22 with the Tac-sol X-ring barrel, Kid trigger, Fostech AA2 stock, and of course, the cascade ti. This is where the F/A rating comes in handy, and also why I wouldn't want to clean it every hundred rounds! You can hear the gun speed up while I'm shooting it in the video, that's me finding the 'sweet spot' for bumping. Since subsonic ammo has less recoil energy, it takes a light touch to make the bumpfire run.
All in all, I am quite pleased with the Tac Sol Cascade Ti. It's not the quietest can out there, but for me it's a great compromise between weight, price, ease of maintenance and durability. It's hearing safe on all of my hosts, and even though there are more .22 suppressors in my future, the Cascade Ti will remain in use for the foreseeable future.